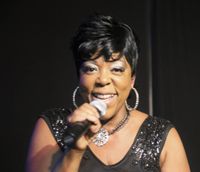 Lizzie Sunchine - Vocals 
Lizzie SunChine is a vocalist born and raised in Seattle. A woman who grew up surrounded by music. Her mother, Marlue Winston, was a choir director for as long as she can remember coupled with the fact that she was her first, guiding inspiration. Music was so important in her household. Her mother really valued so many genres of the art and truly instilled the appreciation for music  in her children. Lizzie's mother recognized her talent at a very young age. Lizzie could sing before she could walk. 
Growing up around and in music was her life and listening to various artists has helped her to be adaptable to sing in many different genres, such as: Popular soul music, Rhythm and blues, and contemporary R&B funk. Lizzie SunChine possesses a deep passion for music and sees it as a gateway to the soul. She relishes being able to perform and bring joy to people. 
Over the past few years, she has experienced the opportunity of singing with two different bands:  Left Turn on Blue and Triple Treat. Some of the venues where they have played are: The Bite of Seattle, The Taste of Tacoma, Good in the Hood Festival, Muckleshoot Casino, and Red Wing Casino. They have also had the pleasure of performing at churches, weddings, and corporate events . Lizzie Sunshine and Friends are excited to bring great diverse and feel-good music to your venue! Lizzie Sunshine and Friends will truly bring joy and pack the house!
Check out Lizzie's new video: Where do we go from here - Official Video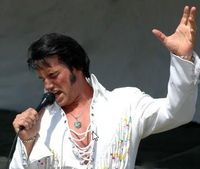 Steve Sogura - Vocals 
Steve Sogura has had more than 20 years of experience in the entertainment industry, and his passion for music has allowed him to honor the memory of Elvis all over the world. A native of Ravensdale, Washington, he was featured in the motion picture film "Almost Elvis." Steve says competing in the Ultimate ETA Contest is a monumental honor and he is grateful to be a part of the tribute artist community. His favorite Elvis song is "How Great Thou Art."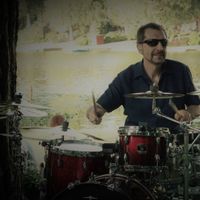 Laszlo Mayer - Drums, Vocals, Bandleader 
Laszlo is originally from Hungary. He has been playing drums over 30 years and has been part of several bands touring in numerous European countries, as a professional, full-time musician. He also played in several different bands in Canada and in the US as well.  In the past 6 years he played most of casinos, pubs, and private events in the Seattle area as a member of Expertease and occasional gigs with the Cherry Cherry band's Neil Diamond Tribute. 
Musicians in general enjoy playing with Laszlo, as he's got a solid beat and is very comfortable with most style of music from Afro-Cuban to Zorba dance, and of course rock, funk, pop, and country. "He's got the groove"!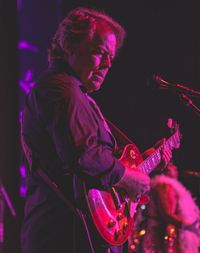 Dan Mcinerney - Guitar, Vocals, Musical Director
​ 
After winning Guitar Players 30th anniversary guitar competition he has opened for Ray Charles (Canadian tour), Wynona Judd, and Ike Turner. He has played with Johnny Bassett, Kim Wilson, Otis Clay and Martha High throughout Washington State and British Columbia concert venues. His overseas travels took him to Europe as guitarist for Trudy Lynn tour. Dan's versatility has established him as a master in his craft and in high demand for his talent.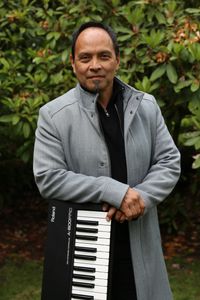 Stephen Cabales - Keyboard,  Vocals 
Stephen  Cabales was born into a very musical family. His roots run deep with gospel influences. He started playing in church services before he could reach the pedals. " I feel very blessed to have my gospel background. Many great artist started there. It was just a given that every one of us kids had an instrument in our hands." 
That soulful vibe can still be heard in everything Stephen plays. "I was heavily influenced by Stevie Wonder, Ray Charles, Billy Joel and Elton. I would try to fuse that into my gospel playing. It's all about connecting with the listener on a personal level." 
Stephen has been in few bands outside of a church setting. We are happy he has joined us in Soul Searching.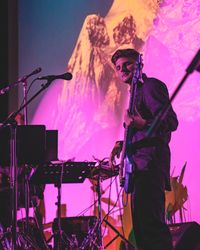 Alex Hebert - Bass, Vocals 
Alex has been playing professionally with bands since about 2013, and have played with dozens of groups covering almost every genre of music, from jazz to country.  Funk, soul, and R&B are some of his favorite genres to play on bass. 
His got one of the best ears in the area when it comes to both improvising and learning songs he needs to cover.  He is a quick study and enjoys his craft.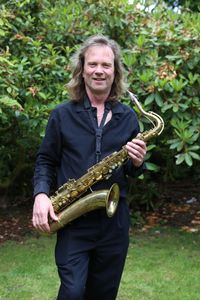 Darryl Estes - Saxophones, Flute, Percussion, Vocals 
Darryl was born and raised in the state of Maine. After graduating from the University of Maine music program, he set his course westward, eventually landing in Seattle, which has been his home for over 25 years. 
During his career, he's been blessed to share the stage with some of music's legendary performers such as jazz greats Al Cohen, Marion McPartland and Ricky Ford, to Rock legends Alan White and Roger Daltrey, to name a few. Over the last decade he has been a member of the CHERRY CHERRY(Neil Diamond tribute) band and the MAINSTREET(Bob Seger tribute) band, performing both locally and travelling to shows to the four corners of the country, as well as Hawaii. 
Darryl contributes as a member of SOUL SEARCHING BAND playing sax and flute, as well as developing  arrangements for the horn section. He is grateful to be surrounded by the top-notch musicians of this groovin' out band.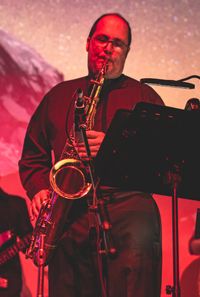 Steve Ryals  (Rico)  - Saxophones, Trumpet, Flute, Percussion, Vocals 
Rico has been perfoming over 30 years as a musician and a band leader playing saxophone, clarinet, flute and trumpet. 
He played clubs, restaurants, family events and company parties; weddings,  birthdays, anniversaries,  corporate affairs, back yard bar-b-ques,  graduations,  community get togethers,  fundraisers. 
His reputation is built on providing a variety of music for any occasion from classical to swing, from rock n roll 
to rhythm and blues, from jazz to big band. 
Check out his website: www.ryalsmusic.com
Chuck Stowell - Trumpet, Trombone,  Vocals
Chuck is a career music educator, performer and a highly skilled music arranger.